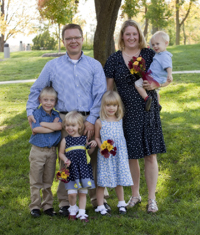 Dr. Karl E. Tarkanyi started his Chiropractic practice in Novi, Michigan in 1995.  Over the last 20+ years, Chiropractic Performance Solutions has evolved into the leading sport and occupational soft tissue injury clinic in the area. This evolution represents Dr Karl's continuing desire to improve his leading-edge treatment of sport and occupational injuries.
Dr. Karl was born and raised in Metro Detroit. He and his wife Michelle live in Novi with their four children: Carter, Klare, Cora and Quinn. After attending The University of Michigan–Dearborn for undergraduate studies, Dr. Karl attended the National College of Chiropractic, where he earned a Bachelor's Degree in Human Biological Sciences, and a Doctorate in Chiropractic. He graduated in December 1994 and established KET Chiropractic Center in Novi the following year. Dr. Karl is one of only a few, Active Release Technique (ART®) certified providers in the area. He began the certification process in 2002, becoming a full-body certified practitioner in 2005, and nerve-entrapment certified in 2007.
Dr. Karl is the first registered provider in the state of Michigan with ART® Biomechanics, Masters and Elite Provider Network certifications. He was selected to be the ART® Corporate Solutions Elite provider for Pepsi Bottling Group of Detroit and Howell in 2009, where he is established as the injury-prevention specialist.  In 2012, Dr. Karl became a Titleist Performance Institute (TPI) Certified Medical Provider.
During 2013, he completed Levels 2 and 3 TPI Medical Certifications.  Titleist Performance Institute Level 3 Medical training allows Dr. Karl to give golfers specific golf evaluations and treatment programs to improve their golf swing, as well as preventing common golf injuries. In 2013, Dr. Karl also became Advanced Certified in SFMA (Selective Functional Movement Assessment) which is a comprehensive assessment used to classify movement patterns and direct manual therapy and therapeutic exercise programs. He also has been a treating physician at several Ironman and REV3 Triathlon events across the country and sponsors most local triathlon events. Dr. Karl is an active member of the Michigan Chiropractic Association.